Overland Expo & the Overland Sourcebook
(ConserVentures)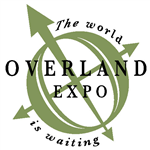 Overland Expo is an international event that educates and inspires people to get out and explore the world, by vehicle or motorcycle. Over 3000 do-it-yourself adventurers enjoy 70 different classes, workshops, and roundtable programs, or visit 100+ exhibitors who offer four-wheel-drive and adventure motorcycles, accessories, camping gear, and adventure travel services.

Overland Expo is organized by ConserVentures, an Arizona organization that promotes overlanding and exploration.

The Overland Sourcebook: Your Guide to Adventure is the annual resource publication of Overland Expo, with listings of hundreds of overland vehicles, motorcycles, gear, services, & information. Order a print copy (at our cost, no markup) or download a PDF or iPad version FREE.

For more information, visit www.OverlandExpo.com, or call Roseann Hanson at 520-591-1410.